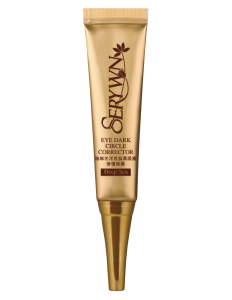 Eye Dark Circle Corrector
Serywn deep sea skin care product are the essence from the mother nature, guardian of your youthful appearance. The whole Serywn deep sea skin care products series contain purest deep sea water, marvelous essence from Maifanite stone and Oryza Sativa extracts, combined with the extracts from Humulus Lupulus. It is preservatives free, DEHP free, paraffin oil free and alcohol free. Serywn deep sea skin care products is mild and non-allergenic, it is suitable for all skin types even the sensitive skin. Proven improvement of 7 major skin problems like dry skin, pores, skin dullness, fine lines, uneven skin tone, sensitive and spots. The most effective and superior skin system for your skin protection!
How is deep sea water different from regular water? Deep sea water also known as nutrient water. Serywn deep sea skin care products are using the purest deep sea water because deep sea water never been exposed to pollution or nuclear test fallout. It contains deep sea nutrients proven beneficial to human skin. Deep sea water also contains many types of minerals compare to normal water.
Maifanite stone also known as "Stone of Health", is a special mineral rock that often used in Chinese medicine to treat various skin diseases. It contains plenty of micronutrient like potassium, calcium, iron, magnesium, zinc, copper and more, is all essential needs to human body. Maifanite stone's minerals are benefits to PH balance, anti-inflammatory, relieve pain and detox.
Oryza Sativa extracts are from rice bran, it as as chelating and skin conditioning agent to the skin. Rice bran is the most nutrient layer of grain, it is very rich in oil and essential fatty acids which make it a perfect skin moisturizer. Is the best deep hydrating agent and anti ageing. Oryza Sativa extracts often used in skin care for its skin shooting enzymes and antioxidant properties. It is a good anti ageing properties as it helps maintain barrier function of the skin.
Humulus Lupulus extracts in Serywn deep sea skin care products help to protect, soothe and revitalize our skin while decreasing blood vessels. Humulus Lupulus extracts aid in producing a softer and suppler skin through improving collagen production. It also delays wrinkles and reduce dark spots and having a strong toning effect. This long known ancient herbal plant contains high natural preservative qualities and form major components in many plant essential oils. It inhibits pigmentation disorder, and promotes metabolism. It gives optimum moisturizing effect; balancing the moisture and sebum layer of the skin so as to give a translucent, radiant and supple skin.
Eye Dark Circle Corrector under Serywn deep sea skin care products specially designed for the dull skin around eye contour. Top replenishing technique helps brightens the overall eye contour. Awakes aged skin and improves the fine lines around the eyes. It is an intensive eye cream that effectively target for dark circles, puffiness and fine line. Advanced Protective Cream under Serywn deep sea skin care products series comes in 15g tube size. Apply every morning and night after cleansed. Gently massage in light movement from the inside corner of the eyes outwards, to the eyelid and all around the eye.
---